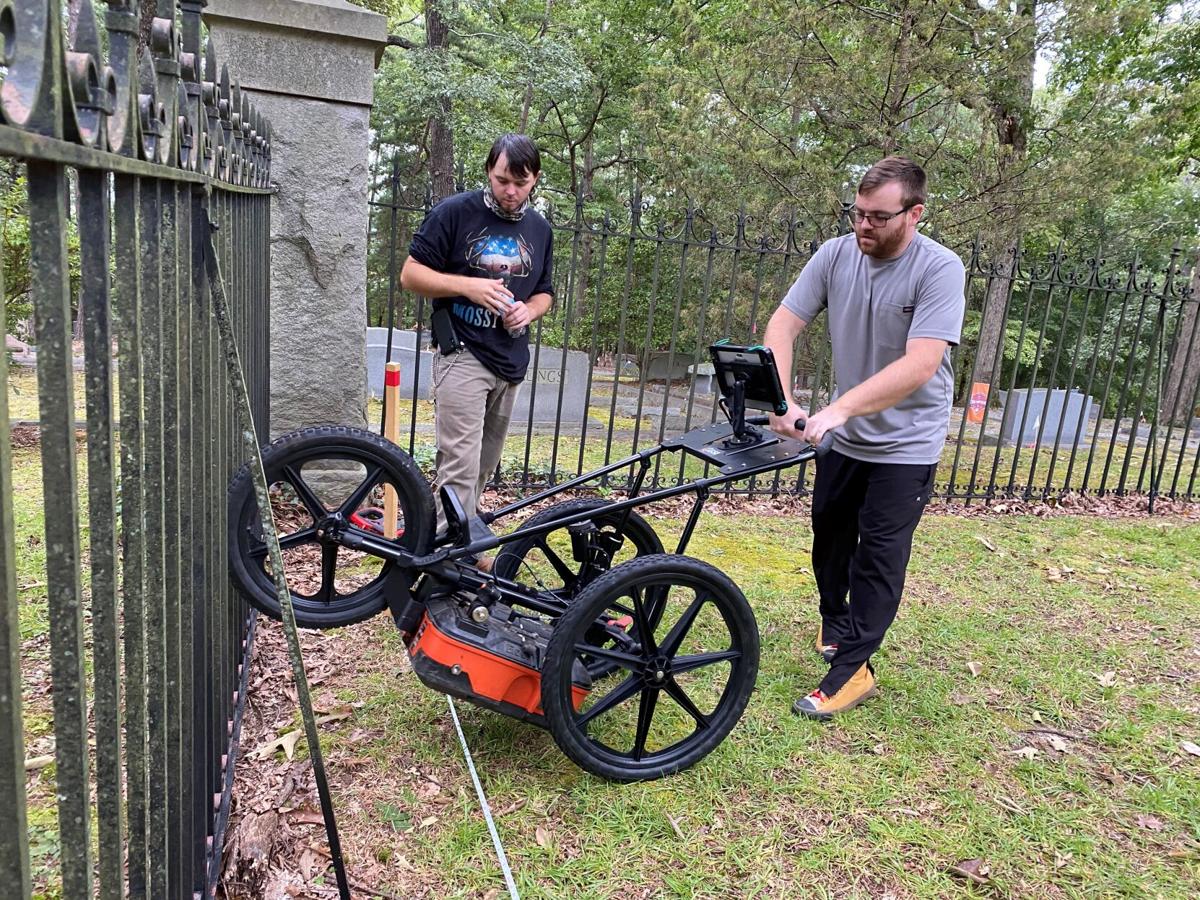 CLEMSON — Scores of additional white flags flapping atop tiny plastic poles have appeared throughout Woodland Cemetery at Clemson University in recent weeks.
Ground-penetrating radar work wrapped up Thursday, scanning the entire 17.3-acre area all the way to the Calhoun family plot at the apex of cemetery hill. Researchers are months, likely years, from establishing just how many human remains are buried unmarked throughout the cemetery, but data has continued to mount.
The newest flags mark underground disturbances, dozens of them among modern graves. They are in addition to the 250 underground disturbances — also marked by flags — on the cemetery's southern and western slopes that the university announced last month likely contain the historic, unmarked graves of enslaved people and indentured convict laborers. The university was a plantation before the Civil War, and the convicted helped build the school more than a century ago.
"What you don't want to do is make a mistake," Clemson University Historian Paul Anderson told The Post and Courier on Thursday. "When we get to the point where we are comfortable with the findings, we will feel more comfortable speaking numbers."
A reporter who visited Woodland Cemetery on Thursday and observed the team from Anderson-based Preservation South, which performed the radar scans, counted at least 88 new flags on the cemetery's grounds.
Sixteen of them were in the Calhoun family plot, 17 were under a path near the cemetery's east entrance, and 40 were just east of and on the other side of a gravel drive from the existing historic African American cemetery at Woodland.
The cemetery drew national attention when the university revealed that the Preservation South team's scans on July 29 had located hundreds of likely unmarked graves.
The cemetery's research team knew and publicly acknowledged in August they would likely find more. Anderson is working closely with Clemson African American literature Professor Rhondda Thomas, who has also engaged leaders from the local Black community.
Read More:
https://www.postandcourier.com/greenvil ... f1bbe.html